The Organizing Committee invite you to the 44st AGM and Scientific Conference, which will take place in Adelaide at the  Sebel Playford  Hotel 29 September – 2 October 2013.
Welcome from the Convener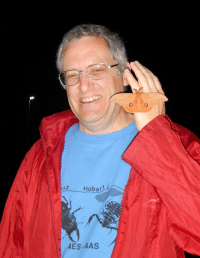 Dear Reader
It is my pleasure to welcome you to this page – and hopefully also to the conference that it represents!  The annual Australian Entomological Society conferences form the core of our opportunities to exchange research ideas with colleagues, meet new ones, and – importantly – introduce the next generation of researchers to the 'conference circuit' in a friendly and supportive environment. I hope you share my enjoyment of these regular opportunities, please do capitalise on this one, and bring as many PhD students with you as you possibly can.  As a bonus, we have the only pandas and the best wine in Australia for you to come and share – I do hope to see you here!
Very best wishes
Phil
The Conference theme is 'Invertebrates in extreme environments'.
Symposia
Tritrophic interactions in extreme environments
Xeric Environments
Pollination
Urban Ecology (including mosquitoes)
Cave and subterranean environments
Insect – plant interactions
Parasitoids and the host milieu
General contributed paper
Bush Blitz Symposium
Our conference logo is the undescribed jumping plant bug, Calophya sp. (Psylloidea: Calophyidae), known from only four specimens, all females, from a single locality in the South Australian iconic Flinders Ranges.*
The 2013 Organising Committee
Professor Philip Weinstein, Professor of EcoSystem Health, University of South Australia
Dr Craig Williams, Division of Health Sciences, University of South Australia
Dr Sofia Orre-Gordon, Barbara Hardy Institute, University of South Australia
Dr Gary Taylor, Australian Centre for Evolutionary Biology and Biodiversity, University of Adelaide
Assoc Prof Mark Stevens, South Australian Museum
Dr Joanne Kent, SARDI Entomology Unit
*The family Calophyidae is represented in Australia by just four described species in three non-endemic genera: Calophya mangifera, a leaf pit-gall inducer on Mangifera indica (mango) in Qld (also occurs throughout the Indo-Pacific); Cecidopsylla paterae and C. putealis, leaf pit-gall inducers on Geijera parviflora (wilga) in NSW and Qld andBanksia marginata (silver banksia) in SA, respectively; and provisionally placed in Calophyidae, Atmetocranium myersi, a stem gall-inducer on the New Zealand tree Weinmannia racemosa (kâmahi) in Qld (only two specimens recorded).

The hind margin of the fore wings of this remarkable Calophya sp. is black, giving the appearance of a dorsal spine when the insect is at rest. The host and biology of this species is entirely unknown. This new species is representative of a vast but little-known biodiversity of jumping plant bugs or 'psyllids' occurring in Australia, and belonging to a group of insects that are especially important ecologically in arid and semi-arid environments. The specimens were collected by Rebecca Kittel while undertaking field work in the Flinders Ranges. The image was prepared by Gary Taylor using a BK+ Imaging System, University of Adelaide.