Welcome / Invitation

Thanks for a great conference Alice Springs. See you all in Brisbane next November
The 2018 Organising Committee is pleased to open invitations for you to attend the 49th Australian Entomological Society AGM and Scientific Conference. The conference will be held at the Alice Springs Convention Centre in Alice Springs, Northern Territory, from Sunday 23rd to Wednesday 26th September, 2018.
We invite you to join us in the beautiful Red Centre (almost precisely the geographical centre of Australia). Alice Springs is a place full of character, colourful outback culture and breathtaking scenery. The dry Todd River snakes its way through the centre of this iconic outback town (population: 28,000), the majestic East and West MacDonnell Ranges surround it. Sunset over these rugged ranges will remain in your memories forever!
This year the conference theme is insects as the centre of our world. With this theme we are encouraging you to focus on the importance of insects to our natural ecosystems, agribusiness, health and land management whilst also appreciating the cultural, ecological and entomological character of central Australia. Our symposia will reflect this aim by including topics with a local focus (including desert ecology, entomophagy) in addition to presentations on recent entomological advances.
This area of Australia, known by the local name of Mparntwe, is part of the territory of the Arrernte people and is connected with the caterpillar dreaming. The yeperenye caterpillar (Hyles livornicoides, Lepidoptera: Sphingidae) is a major creative ancestor of Alice Springs and it is this caterpillar that we have chosen for our conference logo. The yeperenye caterpillar is amongst the most sacred and important of all Arrernte totems. These caterpillar ancestors came from many different places and travelled widely across central Australia. Groups of caterpillars travelled from amperrknge (Central Mt Stuart) in the north, urlatherrke (Mt Zeil) in the west, atula to the east and apwetele on the Finke River to the south, converging at Mparntwe. The spectacular mountain range formations to the west of Mparntwe represent some of these travelling caterpillars. We thank the Araluen Cultural Precinct  www.araluenartscentre.nt.gov.au for the cultural information above and we encourage you to take the opportunity to visit the centre and view the large yeperenye sculpture.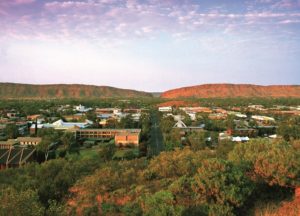 Credit: David Kirkland/Tourism NT
Opportunities to experience the uniqueness of the Red Centre will not be far away during your visit to Alice Springs. Within town, there are numerous centres showcasing the cultural, historical and natural aspects of the Red Centre, such as the Alice Springs Desert Park www.alicespringsdesertpark.com.au. For those who want to get up close and personal with the desert landscape, there are many choices such as Tjoritja / West Macdonnell National Park and many privately run tours are on offer around the region.  For those who are interested in visiting the world famous Uluru, we recommend booking trips through Outback Tour Services www.outbacktourservices.com.au.
On behalf of the 2018 Organising Committee, we welcome you to Alice Springs to enjoy a diverse entomological program in a truly unique location.
Mary Finlay-Doney & Brian Thistleton
Conference Co-chairs
'Think Green'
Bringing people together from different states and countries to one location for a conference can have a big environmental impact. Key contributors include greenhouse gas emissions produced from travel, water use associated with accommodation, waste disposal from food catering, and paper waste generated from conference proceedings. While some of these are difficult to avoid, this year we'd like to mitigate the environmental impact of the conference where we can – and you can help us! In your conference welcome pack you'll receive a USB stick containing the full conference handbook including abstracts and speaker schedule. Water can be saved by reducing dishes and paper saved by minimising printing.
We encourage you to 'think green' and reduce your environmental footprint in other ways too by travelling together where practical, managing your conference schedule electronically, bringing a re-usable water bottle and declining daily room service.
Think globally, act locally.