Welcome / Invitation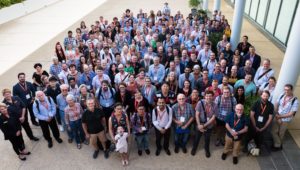 Thanks to all delegates for a fabulous conference in Brisbane. We look forward to seeing all of you in Mount Gambier, SA in 2020
The Organising Committee is pleased to open invitations for you to attend the 2019 combined conference of the Australian Entomological Society (AES), the Society of Australian Systematic Biologists (SASB) and the Australasian Arachnological Society (AAS). For the Australian Entomological Society, this conference will be the 50th Annual General Meeting and Scientific Conference, and the first to be held in Queensland since 2015.
The conference will be held at the Brisbane Convention & Exhibition Centre at South Bank, Brisbane, from Sunday 1st to Wednesday 4th December, 2019.
The conference venue is close to Brisbane's city centre and is a short walk away from hotel accommodation and attractions such as the Queensland Museum, the Queensland Art Gallery, Gallery of Modern Art and South Bank parklands. There are numerous accommodation and dining options, and South Bank is also an important transport hub, well-serviced by trains, buses, bike paths and Brisbane's CityCat river ferry service.
This year, the conference theme is Understanding the Australian Biota in a Changing World, reflecting the joint interests of the three societies as well as addressing the pressing challenges of climatic and biotic change in the Anthropocene. We hope that a significant proportion of the symposia and associated presentations will play a part in advancing our understanding of the significance and conservation of Australia's biota and in revealing the important functional aspects of both natural and modified ecosystems.
On behalf of the Organising Committee, I look forward to seeing you in Brisbane in December!
Dave Merritt
Chair, 2019 AES/SASB/AAS Conference Organising Committee