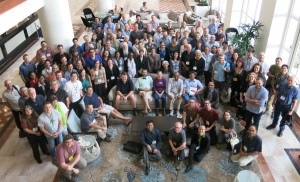 46th AGM and Scientific Conference
Welcome Message:
On behalf of the Organising Committee, I invite you to attend the 51st Annual Conference to be held at the Pullman Hotel in Cairns, Far North Queensland – the dates are Sunday 27 to Wednesday 30 September, 2015.
Cairns offers two World Heritage areas side by side – The Great Barrier Reef and Australia's Wet Tropics Rainforest area. Both offer great opportunities to experience two different areas either pre or post attending the conference. September is a great time of year to visit Cairns with temperatures ranging from 18c to 29c.
Cairns receives direct flights from all major Australian cities and is a gateway to the routes from Asia and Europe. The airport is just a 15 minute drive from the centre of Cairns.
Invitations are being sent to Asian entomological societies and we look forward to their participation.
The Call for Symposia and Abstracts is now open and you are encouraged to submit your thoughts. Please click on the 'Call for Abstracts & Symposia' link to the left to register your suggestion and/or submit your abstract.
So set aside Sunday 27 to Wednesday 30 September, 2015 in your calendars to attend the Society conference and we look forward to seeing you in Cairns.
Stephen Cameron
Conference Chair